This door access controller works with our Ezlink Door Access Reader as well as other card readers on the market in Singapore.
The controller can be connected to the internet cloud to authenticate personnel access from a central server. This allows multiple decentralised door access to be deployed and simply managed through a single server system on the cloud.
This door access controller can accept Wiegand, RS232 and RS485 card reader's communication interface.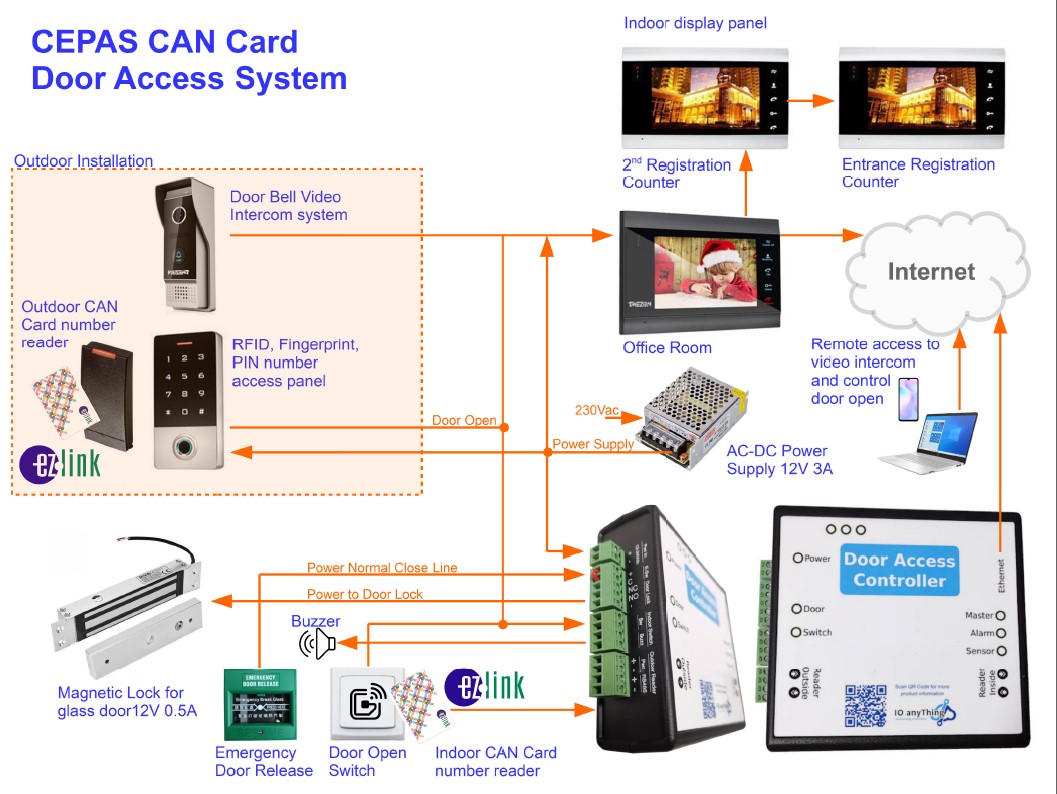 Features
This controller can be integrated with a wide range of door access reader device, and can interface to many door locking system.
Wide range of power voltage input 12Vdc to 24Vdc.
Allows integration to wide range of authentication access read. Example: card reader, fingerprint scanner, keypad access, etc.
Can control magnetic door lock, door strike, sliding/swing automatic door. Allows door control for normally open, or normally close.
Emergency switch connection allows user to open the door in case of emergency. For example fire accident.
Wall switch interface access for door access.
Buzzer feedback user interface.
Ethernet connection to a central cloud server.
Can be connected to energy saving card reader inside the room, and control the power for the whole room.
Application Example using a CEPAS CAN Number Card Reader
User can access to the room using their Ezlink card. Authenticate themselves using the door access card reader.
After entering the room, the user can slot their card onto the energy saving card key holder. The system detects the authenticated user and switch on the power for the room. The system will automatically switch off the room's non-critical power, to save energy in case the user forgot to switch it off.
The single network cloud server also allows remote control and monitoring. Control and access rights of individual personnel can also be authenticated in real time.
The simple administration of personnel access right can be configured via the online cloud Google Sheets.
System Interface Example
Contact us
Contact our sales engineer for further information.