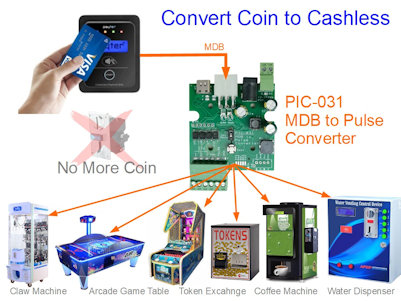 Introducing the Ultimate MDB to Pulse Converter: Revolutionize Your Vending Machine with Cashless Payment Terminals
Are you ready to take your vending machine business to the next level? Say goodbye to the limitations of traditional coin and note acceptors, and say hello to a new era of convenience and profitability. Our cutting-edge MDB to Pulse Converter is here to transform your vending machines into modern, cashless wonders that cater to today's tech-savvy consumers.
Why Choose Our MDB to Pulse Converter?
Seamless Integration: Our converter seamlessly integrates with your existing vending machine's MDB (Multi-Drop Bus) protocol. This means you can upgrade your machines without the need for extensive technical modifications.
Cashless Convenience: Tap into the growing trend of cashless payments. With our converter, your customers can pay using credit/debit cards, mobile wallets, or even NFC-enabled devices, making transactions faster and more convenient.
Expanded Customer Base: By offering cashless payment options, you're not just catering to traditional cash users. You'll attract a broader customer base, including those who prefer digital transactions for security and convenience.
Enhanced Security: Say goodbye to concerns about theft or vandalism of cash. With cashless payments, there's no need to worry about handling and storing physical money. You don't need manpower to collect the cash on your vending machine.
Simple User-Friendly Interface: Our user-friendly interface makes it simple for customers to select items and complete transactions. The intuitive design ensures a smooth experience for every user.
Customizable Solutions: We understand that each vending machine business is unique. Our converter can be tailored to your specific needs, offering customizable features to suit your business model.
How It Works:
Installation: Our skilled technicians will guide you through the installation process, ensuring a hassle-free setup.
Configuration: Customize the converter's settings to match your pricing, product lineup, and branding.
Go Cashless: Once installed and configured, your vending machine is ready to accept cashless payments. Watch as your customers embrace the convenience and speed of digital transactions.
Join the Cashless Revolution Today!
Upgrade your vending machines with our MDB to Pulse Converter and bring your business into the 21st century. Embrace the cashless revolution, attract new customers, and enhance your profitability. Contact us now to learn more about how our converter can transform your vending machine business. Your success is just a click away!
Click here to find out more about our MDB converter for cashless payment.