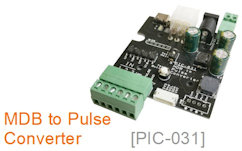 Introduction
PIC-031 is an interface board (MDB Pulse Converter) to convert a modern MDB payment terminal for traditional vending or ticketing machines that accepts the old style coin/notes acceptor. It can be drink machine, coffee machine as well.
This MDB to Pulse converter [PIC-031] is the latest design from our earlier converter design PIC-029. This new design allows operator to configure the price, the price selection input and the adjustment to the output pulse (pulse width and pulse number).
What is MDB?
MDB stands for Multi-Drop Bus. It is a communication interface standard designed specifically for the vending machine industry. Having a common standard interface allows devices to easily connect to one another. This saves time, effort and the cost of integration.
You can click here to download the latest complete documentation of the MDB internal communication protocol,

Board Description
Connection and Wiring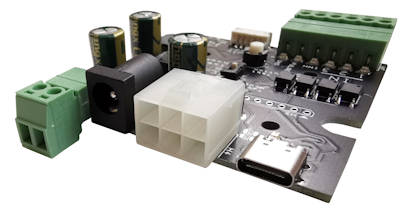 The following is the standard 6pins white connector that is typically used for MDB connection.
User Configuration
User can configure this board via the virtual serial communication port via the USB-C port. You can use a desktop/lap computer or portable mobile phone to configure this MDB converter board.
Set the price, and button input.
Set the pulse output number and pulse width.
Enable MDB functions.
Baudrate
9600bps
1 Stop bit
No Parity bit
No Hardware Handshaking
Configure via Mobile Phone
Configuration Commands
Specification
Designed as a master mode for standard MDB version 1.0
Design power input for 12V or 24V payment terminal (1A)
Size Dimension
Board Size is about 57 x 58mm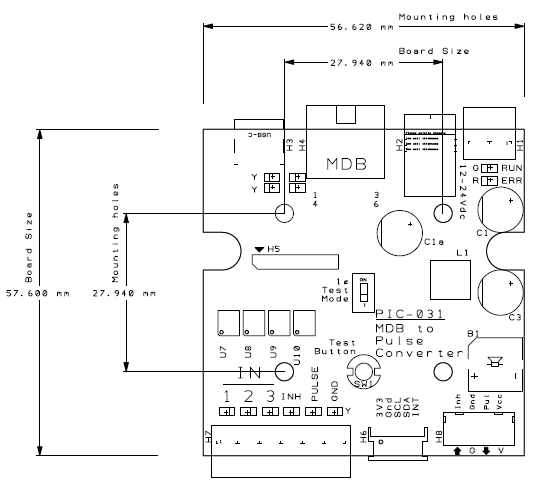 Features
Operate can easily configure the converter via Mobile Phone (USB-C cable)
Configure for up to 16 buttons price selection.
Configure the prices that you want to collect.
Allows user to do either selection first, or select their payment mode first.
Configure the pulse settings to match your machine.
Buy MDB Pulse Converter
Further installation and configuration details will be available after your purchase.
Our technical team will be here to serve and support you.