This Aquaswitch is a solid state electronic sensor. It is not affected by surrounding oil film or metal trays. It is also function in various position even if it is slightly off mounting position.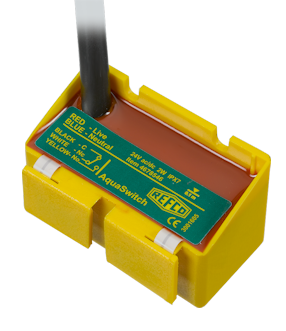 The small footprint and the low switching level means that the AquaSwitch may be mounted in the smallest of reservoirs. The in-built isolated relay switches loads up to 1250VA. This allows the user to select the AquaSwitch to directly switch pumps and solenoids or interface into other control circuits. The built-in Delay to off timer may be used to allow water being drained or pumped to be fully vacated or just to prevent nuisance switching.
Product Specification
There are two product models to choose from. One uses low supply voltage of 24V, and the other model uses 230Vac.
Switching capacity 5A 250Vac (power 1250VA)
Operating Temperature, Air (0-70°C), Water (0-50°C)
Switch On/Off Level, ON at typically 10mm ±4mm
Hysteresis about 2mm.
Delay on level fall is about 3 seconds.
Waterproofing protection rating IPX7
Wire length is about 400mm
Footprint size 50x40mm
Wiring Color
24V (DC or AC)
Red wire (24Vdc or 24Vac)
Blue wire (Common Ground)
Relay switch output
Black wire (C, Common)
White wire (NC, Normally Close)
Yellow wire (NO, Normally Open)
230Vac (90-250Vac)
Red wire (Live 90-250Vac)
Blue wire (Neutral)
Relay switch output
Black wire (C, Common)
White wire (NC, Normally Close)
Yellow wire (NO, Normally Open)
Installation
The AquaSwitch is intended to detect rising condensate water levels in A/C and Refrigeration applications. It may also be used in Reservoir Top-Up or High Level Alarm applications.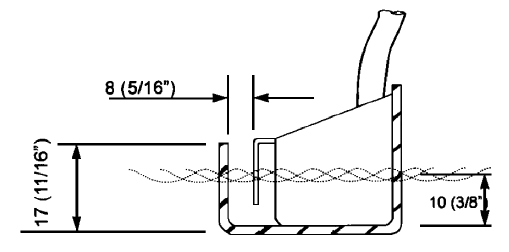 The AquaSwitch is a semi-submersible switch therefore it must not be used in application where it will be permanently submerged or for long extended periods. It is not recommended to use it as a low level switch.
The AquaSwitch may be used in metal or plastic collection trays. When positioning, ensure that there is 8 mm of clearance in
front and 5 mm below the sensing pads.
The AquaSwitch will operate tilted in any direction from the normal by up to 45° however for reliable operation position the AquaSwitch flat and level. Tray depth must be at least 17 mm to prevent overflowing.
Fixing Methods

Use the waterproof double sided foam supplied to adhere the AquaSwitch to the side or base or the tray. Surfaces should be flat, free from grease, dust and water when fixing. Allows 24 hours for full adhesion.
Screw the AquaSwitch to the wall of the tray or suitable bracket. Do not drill or screw into the AquaSwitch in any way other than by the fixing slots provided.
User Instruction Manual
Click here to download Aquaswitch user instruction manual from REFCO (PDF file about 0.5Mb).

CE-CERTIFICATE
Electromagnetic Compatibility Directive – 2014/30/EU
Low Voltage Directive (LVD) – 2014/35/EU
RoHS 2 – 2011/65/EU
Buy Aqua Switch here
Click here to buy. Please note that there are 2 version. 24Vdc/Vac or 230Vac.