VLC-8000 LED Strobe Light Controller (8 Channel)

The Machine Vision Solution Specialist in Singapore
Click here to contact neuphonix (machine vision)  for further information.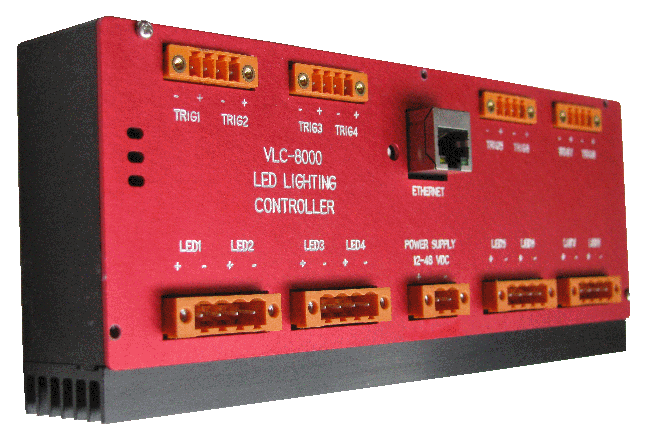 Pulse control LED light (strobe light) for machine vision inspection use.
Strobe light (like a camera flash) allows the camera to capture a sharper image for image processing. This controller can be connected directly to your inspection camera or a computer system for LED pulse light trigger.
Vision Inspection System using VLC-8000
Vision Inspection System Devices
Click on the following diagram to enlarge it.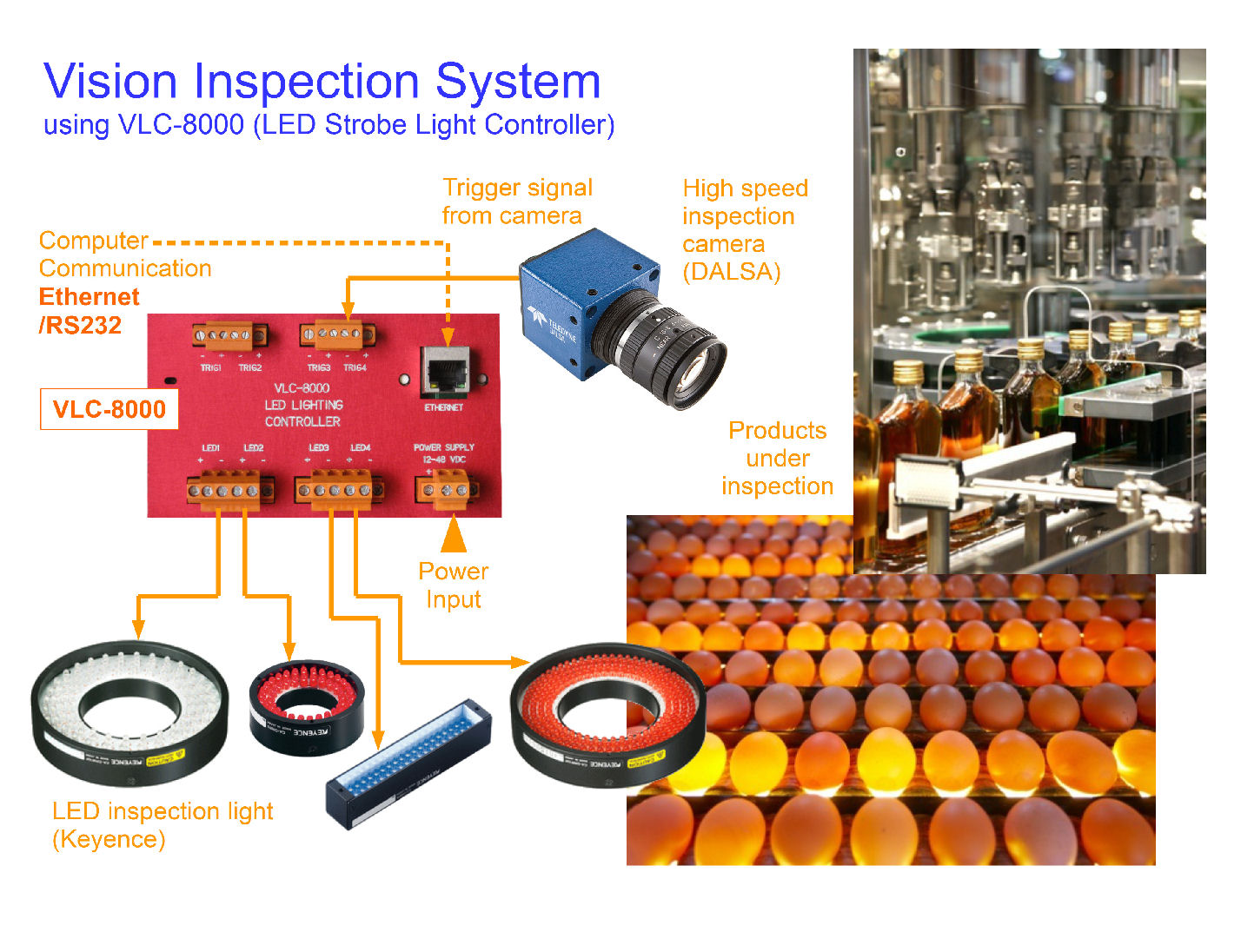 VLC-8000 LED Strobe Light Controller

Features

8 channel LED Output (up to 4A pulse current per channel)
8 channel Light Trigger Input
Ethernet or RS232 communication
Wide range power supply input (12-48Vdc)
Easy pluggable Connector for wiring
Easy Configuration

LED Channel Output

This pulse controller has 8 channel LED output. Each output can be configured in various mode of strobe lighting inspection operation.

You can control the precise current supplied to the LED for brightness control. You can also control the following timing parameters (in microseconds),

Time delayed pulsed light
Duration of the pulsed light

Suitable for LED voltage 12V to 24V up to pulse current 4A (max).

Light Trigger Input

Trigger input to pulse the corresponding LED channel at the precise timing. You can connect camera output control signal to synchronise the camera image capture to the LED light output.

The LED channels can also be synchronised to pulse through a single trigger input.

Ethernet Network Communication

You can configure the LED controller operation through the network using Ascii coded commands (UDP protocol).

You can detect VLC-8000 controller in your intranet network through it self-discovery protocol.

RS232 communication version is also available as an alternative to Ethernet connectivity.

Wide Range Voltage Input Power Supply

Use the power supply rated for your LED lighting. If the LED is 12V, the power supply input will be 12V. For 24V LED, the power supply will be 24V.

The controller can accept a wide power supply voltage input range from 12V – 48V.

 Easy Pluggable Connector

A pluggable connector helps simplify your onsite installation and maintenance.

Easy Configuration

Configuration can be done through software or via Ethernet network using the built-in Webserver. You can also send network command messages to control or configure the LED controller.

 
 
 
Check out also the VLC-4000 LED Pulse Controller (4 Channel)
or check out the main page for LED Strobe Light Pulse Controller.

The Machine Vision Solution Specialist in Singapore
Click here to contact neuphonix (machine vision)  for further information.