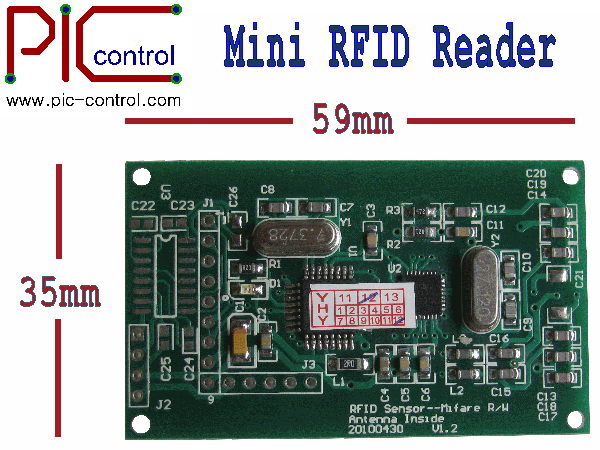 Mini RFID Reader (for 13.56MHz RFID Tags)
Small mini RFID reader capable of reading 13.56MHz RFID tag ID. The size is only 59 x 35mm.
This RFID reader module is designed to work with the following RFID tags,
Mifare Classic Mini, S20

Mifare Classic 1k, MF1 S50
Mifare Classic 4k, MF1 S70
The module is able to read the tag ID via the UART communication port. There is also a digital output pin which will be activated if there is a RFID card detected within the detection range of about 50 to 70mm.
This module can be integrated with a controller, microcontroller or to a computer USB/RS232 via a UART converter.
RFID Reader RF scanning surface front.

RFID antenna is integrated on this board module.

RFID Reader electronic component mounting at the back.

Side view of this mini RFID Reader.

Ultra thin module.

Only 5mm to 6.2mm thick.

Actual size is 59 x 35 x 6.2mm
This mini RFID reader is now available for $8 each.
Cheap low-cost RFID reader.
Custom RFID Reader Solution
Contact PIC-CONTROL today for your RFID or NFC reader customisation. We can help you custom the electronic hardware as well as the backend software.
Other RFID Products