Looking for a easy way to connect your vending machine to a cashless terminal?
We have simply a digital solution for accepting cashless payment (Credit card, Metro card, QR payment, Wechat, etc…).
For vending machine that is currently using coin/note acceptor pulse system, you can use our other solutions,
PIC-032 Cashless Payment for Pulsed Vending Machine.
RS232 to MDB
For vending machine that has a RS232 or an USB port where you can customised the serial communication interface, PIC-033 is the right solution for you.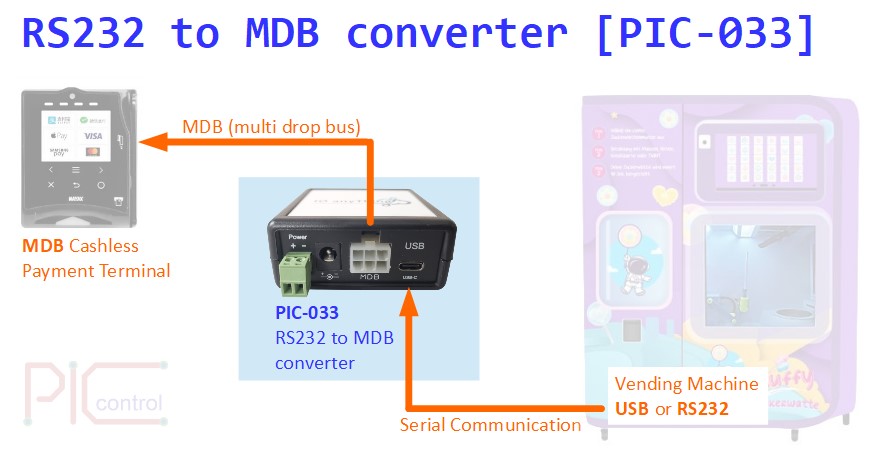 PIC-033 is an interface board that connects between your vending machine's RS232/USB and the cashless payment terminal MDB connection. It translate your request (RS232) and communicates to a cashless payment terminal (MDB). MDB "multi drop bus" is a standard protocol or communication language that enables devices to communicate with each other within a vending machine. It is a global plug and play standard that is design for the vending industries.
With PIC-033 (RS232-MDB convertor), your vending machine can send a command to PIC-033 for payment collection and simply wait for the payment result.
The convertor will pass your request via MDB to the payment terminal to collect pament from your customer. Depending on the payment terminal that you get, you can collect from a wide range of payment method. Your vending machine do not need to handle those various payment process which can be pretty complex. PIC-033 simply your payment process via RS232 commands.
Contact Us for ordering.