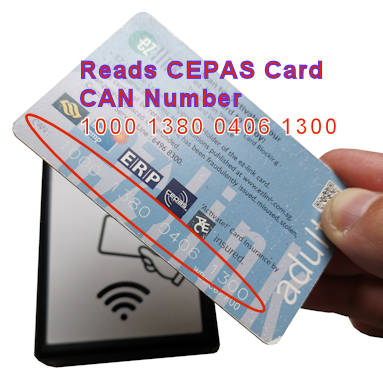 CAN Number Card Reader for CEPAS (Ezlink or NetsFlashPay Cards) for Computer desktop. It connects up to your computer like a USB keyboard (HID Keyboard Wedge) and type out the CAN number that is read, each time a card is flash on the reader. It works like a barcode scanner where the number can be entered to your spreadsheet directly.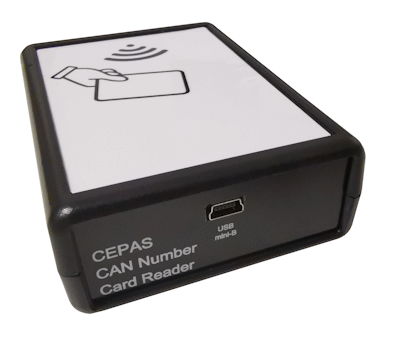 Buy CAN Number Reader (Keyboard) online here.
Reading CAN number to Spreadsheet
Application
Use Student Concession Card for attendance taking.
Registration for use of facilities
Visitor or guest registration
Issuing of temporary security passes.
Loan or borrowing of items
Lucky draw registration
Temporary registration
Attendance taking
Working hour, Clock-in Clock-out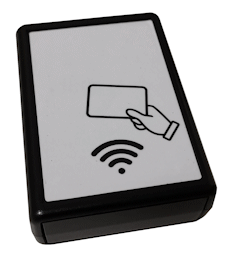 Features
Reads out CAN number from CEPAS (Ezlink and NetsFlashPay cards).
Simple Text output type out like a keyboard.
USB HID Keyboard Wedge. (no need to install software driver)
Small size 92 x 66 x 28mm
Buzzer sound (DIP switch select-able).
LED light indicator to indicate scan card.
<Enter> Keystroke at the end of the text string (DIP switch select-able).
Power up by a single USB mini-B cable.
Works like keyboard entry onto your spreadsheet
For example:
A spreadsheet (Microsoft Excel or OpenOffice Calc) can be opened up. The CAN number reader simply capture each card's CAN number and make an entry onto your spreadsheet application (behaves like your keyboard). Allow the spreadsheet to capture and record the CAN numbers. Entry to a simple notepad application works in a similar way.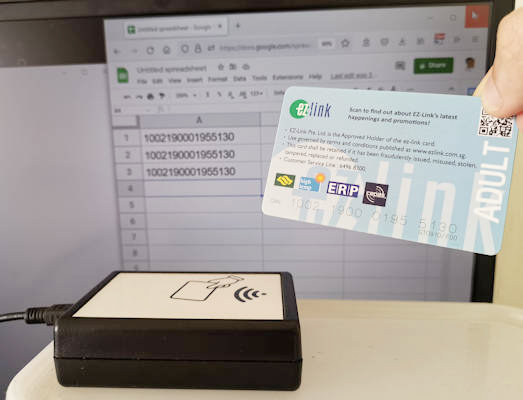 CAN Reader Settings
Disable Sound
Disable RETURN key
You can open up the casing to manually switch off the sound for quiet operation.
You can also choose to remove the <Enter> key or data byte append at the back of the data string that is scanned and return through the HID interface.
Solution to frequent encountered problems
When using spreadsheet (Excel, Calc or Google Sheet), it is important to change the cell format to "TEXT" so that the spreadsheet software is able to record the CEPAS card ID number correctly. You just need to change the column or rows of the cells that you are using it to record the CEPAS CAN card number using the reader.
If the cell on the spread is of type "General", "Number", etc… the data displayed on the cell will not be displayed correctly. This is because the spreadsheet software will interpret the CEPAS CAN card number as a mathematically equivalent numerical number.
CEPAS CAN number is actually of type ID (identification number), a string of text for identity purpose. It is important to change your cell type to "TEXT".
In Microsoft Excel spreadsheet if you are using the default cell settings ("General" or "Number"), the software will attempt to change/force the last digit to a '0' if the string of numbers is more than 15 digits. If you experience this problem, remember to set the cells to the type "TEXT".
Reference:
Last digits are changed to zeros when you type long numbers in cells of Excel. https://docs.microsoft.com/en-us/office/troubleshoot/excel/last-digits-changed-to-zeros
You can contact us for guidance if you are experiencing this problem.
Buy CAN Number Reader
Custom Solution
This product is a semi-custom solution to suit your dedicated application.
We can further customised this product to fit for your project use.
Available in both
– USB Virtual Serial Communication [PIC-347-COM]
– USB HID Keyboard Wedge [PIC-347-HID]
We can also provide the service to assist you in programming a custom spreadsheet document for your application, or develop a custom software for your business operation for use with a CAN number card reader.
Contact us today, tell us more about your project. We can customised the solution for your application.
Other references
Go back to CEPAS card reader product page.
Summary
Author Rating





Brand Name
Product Name
Price
Product Availability