Electronic product contains electronic circuit board which may contains toxic which pollute our environment and can cause health issue. It is important to dispose the electronic waste properly to protect our environment in Singapore. Battery especially, contain leads content.
Unwanted electronic waste example,
mobile phone, tablet
computer, laptop, harddisk, keyboard, mouse
entertainment system, earphone
Places in Singapore which you can dispose your electronic waste.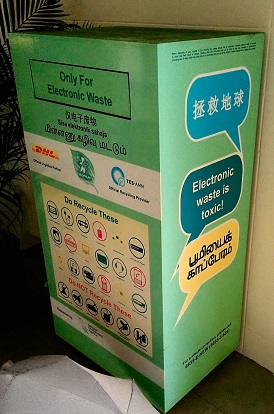 There are an approximate of 166 bins scatter all across the island of Singapore.
Check out this link for the exact location (location of the electronic waste bins).
Typical places where you may find the bins,
In most Schools, Polytechnic, University in Singapore.
Certain outlets at Singapore Post Office, SingTel, Starhub.
Certain shopping malls.
DHL centres
Free Mailing of your Electronic Waste
You can also collect free envelopes from SingPost and Singtel to mail your electronic waste for free. Everyone doing their part to protect our environment.